Day 1 :
Keynote Forum
University of Tartu, Estonia
Time : 10:00-10:30 am

Biography:
Marika Mikelsaar is the Tartu University professor emeritus and medical biotechnology extraordinary professor. Her main research interests are clinical microbiology , human microbiology health and disease, and the probiotic mechanisms of action and development.rnMarika Mikelsaar garners public attention achievement is a patented probiotic lactic acid bacteria Lactobacillus fermentum ME-3 detection, which is used by Dr. Hellus dairy products in the series. 2007 . She was awarded for the European Union, women inventors and -innovaatorite Network ( EUWIIN ) Award and 2008 . in the global women inventors and -innovaatorite Award. rnMarika Mikelsaar belongs to the Estonian Women Student Society .
Abstract:
The gut microbiota provides host by chance with a large diversity of metabolically active species and strains that predict the response for different health conditions. Lactobacilli are characterized by wide gene richness for metabolism of carbohydrates, amino-acids and lipids. According to the FAO/WHO regulations (2002), the origin of the gut strain, its safety and colonizing abilities serve as the basic criteria for selecting suitable candidates for probiotics . However, little attention has been drawn to the functional properties of particular Lactobacillus sp (LB) strains for regulation of blood and urine biomarkers. We have discovered some LB strains with high antagonistic activity against enteric pathogens (Salmonella enteritidis, Shigella sp., Helicobacter pylori, Clostridum difficile) based on the production of high amounts of SCFA, ethyl alcohol and antimicrobial peptides. In experimental animal models some LB strains caused the enlargement of Peyer's patches, increased the number of lymphocytes and mono-and polymorphonuclears with induction of inflammatory and anti-inflammatory cytokines in gut mucosa and organs. This serves as an important immune enhancing functional property of the special strain aimed for control of infection and correction of dysbiosis after antibiotic treatment. Further, in L. fermentum ME-3 (DSM 14241) the full glutathione cycle and antioxidative Mn–SOD, expressing anti-atherogenic effects in volunteers was detected. Moreover, the strain was characterized by both alfa- and beta-galactosidases and bile acids hydrolases. This was associated with improvement of blood lipid profile in volunteers with borderline high content of low-density-cholesterol. The peptides with inhibitory activity of angiotensine converting enzymes, polyamine spermidine and nitric oxide (NO) were produced in vitro by both L.plantarum DSM 13279 and DSM 13280 strains. In dairy food intervention and clinical trials these functional properties have been shown to reduce the risk of obesity and high blood pressure. Thus, further research on the functional properties of putative probiotic Lactobacillus sp. (LB) strains may help to clarify ways of regulating the blood and urine biomarkers for reducing the risk of metabolic and immune-mediated diseases.
Keynote Forum
Tel-Aviv University, Israel
Time : 14.45-15:15 pm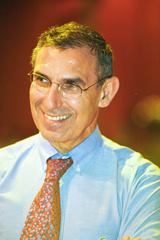 Biography:
Yehuda Shoenfeld is an Israeli physician and autoimmunity researcher.Yehuda Shoenfeld works at Sheba Medical Center in Tel HaShomer and the Sackler Faculty of Medicine at Tel-Aviv University. He is the incumbent of the Laura Schwarz-Kipp Chair for Research of Autoimmune Diseases. Shoefeld is the editor of two journals, Harefuah (Medicine) in Hebrew with English abstracts and Israel Medical Association Journal (IMAJ). He is editor-in-chief of Autoimmunity Reviews, and co-editor of the Journal of Autoimmunity.
Abstract:
In areas where helminthes infections are common, autoimmune diseases are rare. Treatment with helminthes and their ova, improved clinical findings of inflammatory bowel disease, multiple-sclerosis, rheumatoid-arthritis and type-I-diabetes-mellitus, in animal models and in human. The tolerogenic properties of the helminthes and their ova were attributed to the phosphorylcholine (PC) molecule. We analyzed the tolerogenic potential of tuftsin-PC (TPC) compound in experimental mouse models of lupus, dextran-sulfate-sodium-salt-(DSS)-induced colitis and collagen induced arthritis (CIA) .rnTreatment of Lupus prone mice (NZBxW/F1) subcutaneously with TPC attenuated the development of proteinuria (p<0.02) following by reduction in immunoglobulin deposition in the kidney mesangia. The improvement was associated with enhanced expression of anti-inflammatory cytokines such as TGF and IL-10 (p<0.001). Whereas the inflammatory IFN and IL-17 cytokine production was inhibited (p<0.03, p<0.01 respectively). TPC treatment resulted in a significant expansion of CD4+CD25+FOXP3+ T-regulatory cells phenotype in comparison to the vehicle treated mice (p<0.009). In DSS-induced-colitis mice, oral subjection of TPC prevented the severity of colitis, including a reduction in the daily-activity-index (DAI) score, there was less shortening of the colon and less inflammatory activity as observed by microscopy. The colitis preventive activity of TPC was associated with downregulation of colon pro-inflammatory IL-1β, TNF and IL-17 cytokines expression, and enhancement of anti-inflammatory IL-10 cytokine. Subcutaneous or oral ingestion of TPC in a prophylactic protocol to CIA mice, reduced significantly the clinical score of joints inflammation (calculated from immunohistology analysis), in comparison to mice which received the vehicle (p<0.001). The inhibition of arthritis development in CIA was followed by a significant expansion of T-regulatory-cells and B-regulatory CD19+CD10highCD5highICD1dhighTIM-1+ cells.rnWe prove that TPC can ameliorate significantly experimental glomerulonephritis in lupus mice, colitis in DSS-induced mice, and arthritis in the joints in CIA mice. We propose TPC , as a novel potential small molecule to treat lupus, arthritis and colitis. rn